Biography


The highly acclaimed American dramatic tenor Howard Haskin has achieved international recognition as much for his "extrovert dramatic presentation" as his "ringing, lustrous" tenor voice. A true polyglot, Mr. Haskin's ability to speak French, German, Italian, Russian, Dutch, and English always wins him high praise for diction and is invaluable in bringing operatic roles to life. Audiences thrill to the unique combination of his multiple talents—first-rate musicianship, intelligence, his dramatic prowess, the eloquence, vitality, and expressiveness of his voice.

Among more than forty-five roles in his repertoire are Otello, Peter Grimes, Bacchus, Don José, Cavaradossi, Jason, Oedipus Rex, Paris, and Sportin' Life. Most recently, he added Samson to this list, performed for the 91st anniversary festivities of the Theatro de São Paulo. Mr. Haskin frequently collaborates with leading conductors including Charles Dutoit, Esa-Pekka Salonen, Ivan Fischer, Kent Nagano, Mstislav Rostropovich, Sir Charles Mackerras, Hartmut Haenchen, Anne Manson, Andrew Litton, and Ira Levin.

Since his debut at Opernhaus Zürich, Mr. Haskin has performed in many of the world's great opera houses, including Covent Garden, Paris–Garnier, Théâtre du Châtelet, Lyon, Nice, Marseille, Amsterdam, Madrid, São Paulo, Dublin, Scottish, and English National, at the festivals of Buxton, Wexford, Glyndebourne, Orange, and Bregenz, and in Royal Albert Hall. Two of his opera performances are available on videotape: King Priam with Kent Opera under Sir Roger Norrington and directed by Nicholas Hytner, and The Seven Deadly Sins with Opéra de Lyon under Nagano and directed by Peter Sellars. Mr. Haskin's world-premiere performance as Vova in Schnittke's Life with an Idiot at Nederlands Opera under Rostropovich is available on compact disc from Sony Classical.

Apart from his operatic successes, Howard Haskin also enjoys a distinguished career as a concert singer and recitalist. Among other works, he is well-known for his performances of Dream of Gerontius, Beethoven's Ninth Symphony, Christus am Oelberg, Child of Our Time, Verdi's Requiem, and Mozart's Requiem. A noted interpreter of Das Lied von der Erde, Mr. Haskin has performed this work with the Budapest Festival Orchestra, Haifa Symphony Orchestra, Mahler Chamber Orchestra, Orchestre de l'Opéra de Lyon, and Tonhalle Orchester Zurich. A live recording of Howard Haskin's concert performances of Dallapiccola's Il Prigioniero, with the Swedish Radio Symphony Orchestra under Salonen, released on the Sony Classical label, received a Grammy nomination in the category of "Best Opera Recording", a Choc du Monde de la Musique award, and was included in Fanfare magazine's "Want List". Mr. Haskin has also performed this work with the VARA (Netherlands) Radio Orchestra, Orchestre National de France, Orchestre symphonique de Montréal, and the NHK (Japan) Symphony Orchestra.

During the 2001-2002 season, Mr. Haskin stepped in at the last minute to perform Bacchus to critical acclaim for the full run of Ariadne auf Naxos at the Opéra de Lyon under Ivan Fischer and directed by Günther Krämer. He subsequently repeated this exploit at Marseille under Michiyoshi Inoue and reprised his performance in the Lyon production at the Théâtre du Châtelet's Festival des Regions.

Howard Haskin first attracted attention throughout Europe in 1981 by garnering 1st prize in both Paris singing competitions, as well as 1st prize in the s'Hertogenbosch singing competition. The s'Hertogenbosch prize was a distinction that had not been bestowed on a tenor in 15 years.

Born in Kansas City, Kansas, Howard Haskin received his early musical education at Wichita State University and at Indiana University, Bloomington. In 1978, he was awarded a scholarship by the Zurich Opera Studio, where he profited from intensive coaching and performed a number of smaller roles, becoming a member of this company during the 1979-1980 season.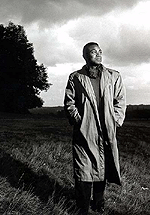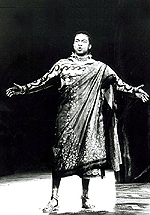 Howard Haskin as Jason in Médée at the Buxton Festival.