Twenty grams of foam for a perfect Lenin

Franz Straatman, Trouw


AMSTERDAM - Howard Haskin and I call 'Dasvidanya' to each other in farewell. This Russian version of 'till we meet again' sounds comical after an interview with an American tenor, and yet it is fitting for the role of Vova which Haskin plays in the English-titled ("Life with an Idiot"), Russian-sung opera by Erofeyev (libretto) and Schnittke.

"The director Pokrowski looked very surprised when I greeted him in Russian at our first meeting. That was his second surprise. You see, Pokrowski, the librettist and the composer had not actually anticipated that De Nederlandse Opera would contract a black American for a role meant to strongly resemble Lenin in their imagination. But it turned out all right in the end, partly due to the fantastic quality of the make-up artists. These people are truly among the very best in the world."

Two days later I made the acquaintance of Eugène Linneweever, the man who transforms Haskin's dark brown head with frizzy black hair into a wonderful Lenin head in under an hour. Not just the head, but also practically Haskin's whole body is made "white" with cream-coloured make-up, because Vova jumps around partially undressed during the performance. Linneweever, the head of the eleven strong hairdressing and make-up department of the Muziektheater, admits that he had some initial problems with a black singer being made "white". "But I don't mind" I told Howard. "After all, you do have to play an idiot." The singer himself has no objections whatsoever and cheerfully parries the teasing of his (white, also American) colleague Dale Duesing (Ik) in another make-up chair, "I'll think of you when you are lying in the summer heat trying to become as beautifully brown as I am."

During our previous conversation, the now 39-year old Haskin made no secret of the fact that, in his experience of the world of European opera, skin colour really is a delicate question. He once auditioned at a German theatre, for instance, for a role in an Italian opera. He naturally sang the required aria in Italian, whereupon the intendant who was listening asked him if he spoke German, since it was the custom in his theatre to sing that particular opera in German. Haskin, who speaks five languages, gave as good as he got by pointing out to the questioner in fluent German that it did not seem to be language which was the issue.

Skin colour was never an issue at De Nederlandse Opera. The Netherlands is renowned for the many Dutch bookings for Willard White, a bass who is colossal in both voice and presence. He can again be heard and seen in the coming production of 'La Damnation de Faust'. Haskin comments that White and Simon Estes have broken many taboos in the bass profession. "But where tenors are concerned, I still encounter resistance. But then again, it doesn't really bother me that much."

He has returned to the Netherlands many times since his prize at the international singing competition in s'Hertogenbosch (1982). Typical of Haskin was the way in which he portrayed the role of Orpheus in the French version of Gluck's 'Orphée et Euridice'. His other roles have been smaller parts like Grigori in 'Boris Godunov' ("without the Polish scene, which means the role hasn't much to do") and recently as one of the three brothers in 'Die Frau ohne Schatten'.

Exciting months
"From the rehearsals for 'Die Frau' through to the last performance of 'The Idiot' next Thursday, I will have been here for five months. Although I occasionally went home to Paris, where I live. Exciting months, I can assure you, because 'Die Frau' was actually another remarkable production."

"But 'The Idiot' is absolutely the most remarkable thing I have ever experienced. An extensive synopsis had given me an idea of what the opera involved, but it was still a surprise when I didn't receive the score until the middle of January and discovered that I had nothing else to sing but the word 'Ech'. Even if it was in all kinds of ways and with top notes reaching right up into the stratosphere!"

"You see, I can reach a high D, which is the equivalent of a high C for sopranos, but Schnittke's score required even more. His illness made it impossible for me to consult with him, but I was told that I could modify the role to suit my range. When Schnittke came to rehearsals later on, he told me that he had written an intention that was not intended as an imperative. He proved to be very content."

"Haskin laughs heartily at being the only member of the American–West European cast (not counting the Russian bass Leonid Zimnenko) with a reasonable knowledge of Russian, while he only has to sing 'Ech, ech'.

"I understood from the direction that Erofeyev visualized a kind of Lenin-like figure for the idiot from a madhouse, who is taken into the home of a married couple as some kind of punishment for a vague misdemeanour. I was in Moscow ten years ago, but I did not want to look in the Mausoleum on Red Square at the time. Although I studied the Lenin figure in depth for this role, I do not portray an exact copy. That's not what the director wanted."

"A Lenin profile with a clear caricature," is how make-up artist Eugène Linneweever describes the instructions he received. "We made a copy of Howard Haskin's head first and the shape of the stage mask was modelled on top of that." While he explains, he is covering Howard's head of frizzy hair with a kind of cap, following which the actual mask—a protruding flat forehead—is put on.

"The material consists of four components of latex, which is whipped like cream to make it extremely light. The whole thing weighs about twenty grams altogether. The finish has to be light as well, because Howard plays an active and agile role, which makes him sweat."

An assistant delicately touches up the joins with a fine brush. A pointed nose, a fringe of ginger hair, a moustache and a goatee are applied. The metamorphosis is complete and perfect, even close-up. Haskin sits quite still and breathes calmly during the séance.

"It is a question of trust between the singer and the make-up artist. After all, you are tampering with someone's face," says Linneweever. "This is the first time that I have applied something like this for an opera. You grow towards the character together. Howard didn't know what was happening the first time he got this on his head. The most important thing for a singer is the question of whether his singing will be hampered. But as you see, everything can move." Haskin jumps out of the chair with a high shriek. "Vova is a crazy man. So is Lenin. But different from Haskin, even if he's a bit crazy too," is what the singer-actor had told me before with a grin. His dearest wish? To sing Otello in Verdi's opera of the same name. "Absolutely my voice and my role."

Original Dutch text copyright © 1992 Trouw (Amsterdam)




• Print Interview 1 of 3 •

Next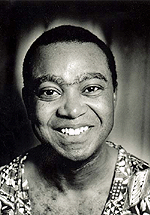 Howard Haskin, tenor with a high D, born in Kansas City, eloquent in five languages.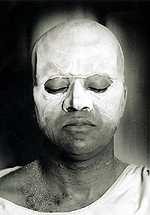 Twenty grams of whipped latex. The libretto states 'He has the skull of a degenerate'.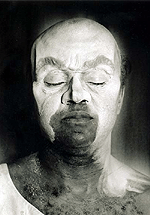 Cheeks and mouth are touched up with special make-up in a vivid flesh colour and given a "white" powder finish.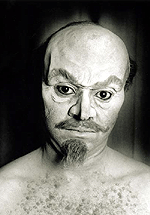 Vova, alias Vladimir Lenin, idiot from the Soviet Union, monosyllabic 'Ech'. The libretto claims 'His skull has been flattened by the strength of his imagination'.


Photos by Maartje Geels